Dynamic Language Developers Are Looking To Build Cloud-based Applications in Next Year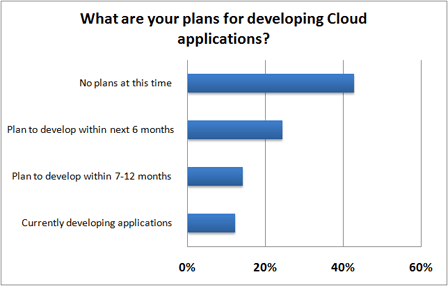 Last week, we announced the results of an informal survey of over 140 developers, architects and managers and got some good insights into how and when enterprise developers are planning to deploy cloud applications.
The survey found:
Half of the developers have deployed or plan to deploy cloud applications in the next 12 months
The highest percentage of developers, 37%, look to blend public cloud computing with on-premise computing resources
The top 2 perceived obstacles in deploying applications in the cloud are security (40%) and lack of tools/expertise (40%)
While JavaScript was the most common tool used by developers in the poll (79%); Perl and Python were each used by about half of the respondents
This poll was conducted during a webinar titled "Best Practices in Porting and Deploying Enterprise Applications to the Cloud Using Dynamic Languages" by Stephen O'Grady, Principal Analyst and Partner at Redmonk and Jeff Hobbs, Director of Engineering at ActiveState.
Download the slide presentation, with results, at http://www.slideshare.net/activestate/cloud-deck-activestatewithpoll.