Pay Attention to Your Open Source Software Licenses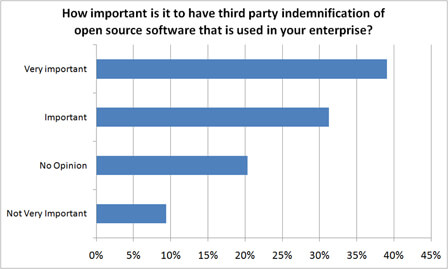 Two times in June this year, ActiveState hosted legal webinars from expert open source lawyers to discuss some of the main legal issues surrounding open source. On June 16, 2010, Van Lingberg, from Haynes and Boone LLP and author of "Intellectual Property and Open Source" spoke on "Putting Open Source Dynamic Languages through the Licensing Test: A guide to most popular licenses and their implications." And on June 29, 2010, Robert Blasi, a partner and patent attorney with Goodwin Procter, covered "Best Practices in Managing Open Source Intellectual Property in the Enterprise."
Since legal issues always revolve around details and your own unique circumstances, we recommend you listen to the webinars directly. But to sum up their collective advice:
Pay attention to your software licenses.
Do you disagree? Probably not. According to responses from webinar attendees to a question on the importance of indemnification, it's overwhelmingly seen as important or very important.
Ok, it's important. But what does that mean for you specifically? It's impossible to touch on the full state of affairs concerning open source legal issues, but both presentations touched on Jacobsen v. Katzer, the leading case dealing with open source software in the US. The Jacobsen court held that an open source license may set conditions limiting the use of copyrighted material, and that a violation of such conditions constitutes an act of copyright — as opposed to contract — infringement. That means monetary damages.
The bottom line for enterprises is that you need to pay attention to your software licenses, even if they are open source licenses. Open source licenses are no longer different.
How do you use open source software without risk? At its core, there are three essential overlapping pieces:
Understand the current situation
Correct as necessary
Put processes in place going forward
Sound obvious? Polls taken during the webinars suggest over 60% of you say "Yes, we pay attention" which is great news, but it is balanced by the sobering statistic: Nearly 30% of you say "Yes, but we probably need to do it better" or "No, but we are planning to".
For more details on doing an initial audit and other prudent and necessary steps, please make the time to view the webinars themselves. It's time well spent.