Survey Says: Selenium by a Nose for Most Popular Test Framework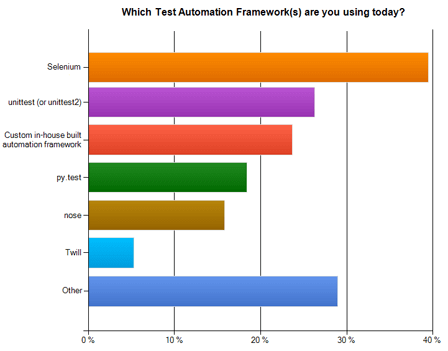 Last month we asked our developer community to share with us which test frameworks they are using today–with some interesting results. It was a bit of a horse race with
Selenium
beating out the "Other" category by a
Nose
.
The results were a mixed bag as the test automation community has a lot of frameworks and testing approaches from which to choose. The "Other" category filled up with lots of interesting responses, including the following: "
Burp, Fiddler, Paros, Webscarab
". Those in the world of Web Application Security might have heard about Burp, Paros, WebScarab and other proxy tools, which are used to intercept the web (HTTP/HTTPS) requests…but it read like a mini-poem on first glance; a few more syllables and it could have been a haiku:
Burp, Fiddler! Paros, Web Scarab!
We also asked the community which scripting languages that they were using today; most replied with multiple languages and added Shell Scripting and javaScript to the "other" category. The interesting horse race in this category was how close
Python
is coming to overtaking
Perl
as the Testing language of choice.
Thank you to all of those of you who participated in the survey and please feel free to send further almost-haikus and feedback to us! Oh, and congrats to Steff J, who won an ActiveState t-shirt for taking the time to reply to the survey! Steff, we'll be in touch for sizing and shipping info.
Want an opportunity to pick up a coveted ActiveState t-shirt, too? All you need to do is answer this short survey on deploying to the Cloud. Don't worry if you haven't moved to the Cloud; we'd still love to hear your future plans, hopes and fears related to the Cloud:
surveymonkey.com/july2010as
.
A winner will be drawn in early August and announced in the newsletter and on the blog.