We're proud to announce that ActiveState Ruby is now available for download from the ActiveState Platform. Currently in Beta, you can download a recent version of Ruby for either Windows or Linux:
No matter which version you choose, you'll need a free ActiveState Platform account in order to fork a copy of ActiveState Ruby into your own account, and then install it using the provided command line snippet.
Note that If you click on the Configuration tab of your forked project, you'll see that ActiveState Ruby includes Rails, along with 17 other popular, third-party Ruby gems and all their dependencies. While Ruby was originally released in the mid-90's as a high-level, interpreted language, it didn't really catch on until ten years later when the Rails framework forever changed the way developers worked with Ruby:
| | | |
| --- | --- | --- |
| | Ruby | Ruby on Rails |
| What is it? | A language | A framework |
| What inspired it? | Perl and Smalltalk | Python's Django web framework |
| What language is it written in? | C | Ruby |
| Primary Use Case? | Desktop apps | Data-driven web apps |
.
Almost overnight, Ruby on Rails (RoR) became the darling of web developers everywhere because of how simple it suddenly became to create database-backed web applications. Primarily for this reason, Ruby has continued to rank in the top 15 languages for the past fifteen years, and currently drives popular sites from Basecamp and GitHub to Shopify and AirBnB.
Ruby On Rails for Web App Development
RoR remains popular today because it combines the ease of use of the Ruby programming language with Rails' powerful web framework to provide developers with a simple way to create web applications quickly and easily.
For example, RoR enforces a Model-View-Controller (MVC) architecture that centralizes the business logic of web applications while compartmentalizing the incoming actions and outgoing display updates: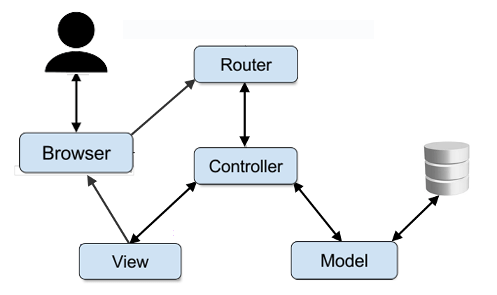 Model

– contains the logic of the web application, as well as the essential data. A RoR Model can be as simple as a single table in a database and a Ruby file.

View

– the UI that users see and interact with via a browser. RoR Views are erb files, which allow you to embed Ruby code in an HTML document. 

Controller

– the server-side component that connects your Model to your View using routes, which allow for RESTful create, edit, update, etc actions. Mapping of incoming requests/routes to controller actions is done in a routes.rb configuration file.
It's this kind of template model that makes RoR so efficient when it comes to prototyping web apps quickly. 
Why Ruby From ActiveState?
ActiveState Ruby is available for both Linux and Windows. While Ruby on Windows has gotten much better in recent years, you may still see "Not found" errors due to the PATH being set incorrectly or dependencies (especially native dependencies) being misconfigured. These are the kinds of errors that ActiveState Ruby is designed to eliminate through the use of our universal package manager, the State Tool, which not only sets your PATH and manages installation of dependencies, but also automatically creates a virtual environment on install to ensure you can run multiple versions of Ruby without conflicts. 
ActiveState Ruby is available via the ActiveState Platform, which provides Ruby developers with a number of additional advantages, including:
See how it works:
Next steps:
You can get started with ActiveState Ruby for free, with advanced functionality provided via a self-serve or a managed subscription. With managed subscriptions, ActiveState will monitor, upgrade/remediate your runtime environment, and ensure all gems build successfully so your developers can focus on more value-added tasks.
If you'd like to understand more about the advantages of working with ActiveState Ruby: