As an open source company, ActiveState has a long history of creating, publishing and contributing to open source. And now that the Command Line Interface (CLI) for the ActiveState Platform, the State Tool, has reached its milestone, we're releasing it to the community via our State Tool GitHub repository.
Written in Go, the State Tool is designed to (ultimately) be a cross-platform, universal package manager for dynamic open source language runtimes. Currently, it supports Python and Perl, and can be installed on Windows, Linux and Mac.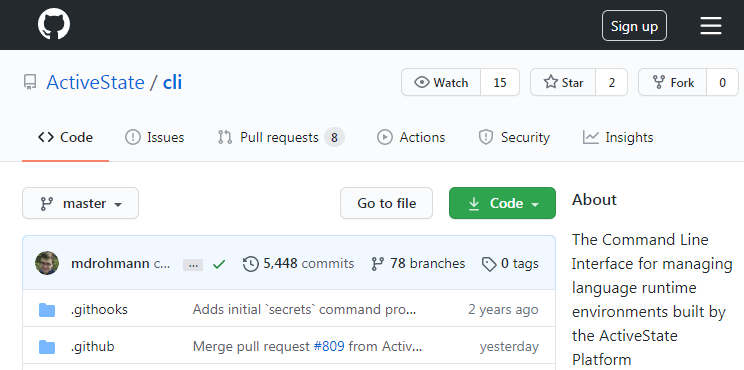 Not Just Another Package Manager
The State Tool is being designed for us: developers, with the goal of resolving all those day to day issues that prevent us from just writing code. Issues we're currently tackling with the goal of them simplifying them, include:
Universal Package Manager Written in Go
The State Tool represents the biggest Go language open source project from ActiveState. If you code in Go, there are a number of routines that might be of interest to you, including:
Or you can just start by reviewing the entire State Tool CLI repository.
Open Source Language Package Manager Roadmap
We have big plans for the State Tool, which is really just getting started making your coding life easier. Some of the items we'll be tackling in the future include:
Embedding the State Tool – A number of organizations have built applications which require one of our ActivePython or ActivePerl distributions to run. Embedding the State Tool will allow users to get up and running with a single command.
Multi-Language Development – Most applications are written in more than one language, forcing organizations to manage multiple tools. Dependency conflicts across languages can also eat up valuable developer time to troubleshoot. As a result, we'll be iteratively working toward making the State Tool a true universal package manager that delivers a single, consistent interface for all language management tasks, no matter the language.
Environment Management – Working on multiple applications (or multiple versions of a single application) can require different versions of the same library, resulting in conflicts if working directories aren't well created and maintained. The State Tool aims to revolutionize the way multiple environments are created and managed by automatically creating them on demand for any/all languages required, and making switching between them as easy as typing the name of the project.
CI/CD Optimization – Most CI/CD solutions do a poor job of accommodating custom runtime environments. But by essentially pre-building the runtime and using the State Tool to deploy it seamlessly into your CI/CD containers, you will no longer need to wrestle with custom runtimes across your CI/CD chain. Read our ongoing series of blog posts about how to optimize your CI/CD solution.
And more, but we're always looking for additional suggestions from our users, as well.
Getting Started with State Tool
Hopefully, all this has piqued your interest in the State Tool. If you want to get more involved, please:
ActiveState & Open Source
Open source benefits everyone by making code freely accessible to help solve more software development, as well as real world problems. At ActiveState, our business has been based on open source for more than two decades. We rely on open source code to create all our solutions, and have provided millions of lines of code back to the community under open source license for them to use. Some of the open source projects ActiveState sponsors and maintains include:
With the release of the State Tool, we hope that together we can make it simple for every developer to install, run and manage any open source language runtime, no matter the OS, dependencies, or languages used.
Recommended Reads
Goodbye PPM, Hello State Tool
Dependency Resolution Optimization – ActiveState's Approach