Komodo IDE
One IDE for All Your Languages
Code faster with the IDE for today's web languages – Python, PHP, Perl, Golang, Ruby and more.
For Windows, Mac and Linux.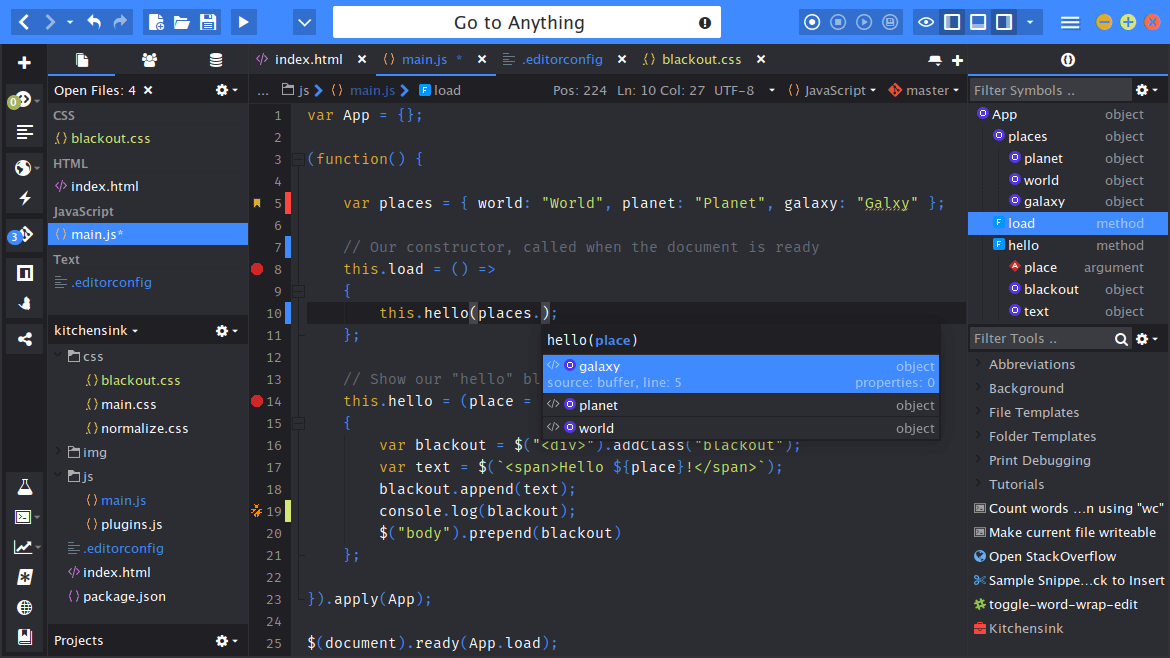 Code Intelligence
Powerful editor with syntax highlighting, autocomplete, code refactoring and more.

Debugging and Unit Testing
Visual debugger and more to debug, inspect and test your code

Version Control
Support for Git, Mercurial, Subversion, CVS, Perforce and Bazaar

Extensibility
Tons of add-ons for customizing and extending features

All Your Languages
Python, PHP, Perl, Go, Ruby, Node.js, JavaScript and more

Workflow Management
Define your own workflow with easy file and project navigation

Enterprise-Grade Support
Backed by ActiveState, trusted by developers and enterprises
Revamped Code Intelligence
Code Intelligence is smarter and faster than ever before. Increase your productivity with smarter and more responsive autocomplete and symbol browsing, while enjoying overall faster performance.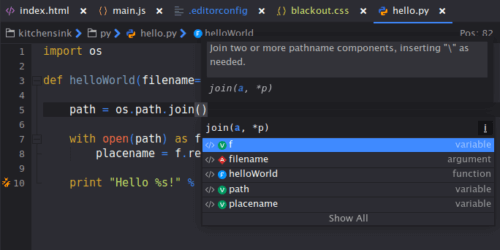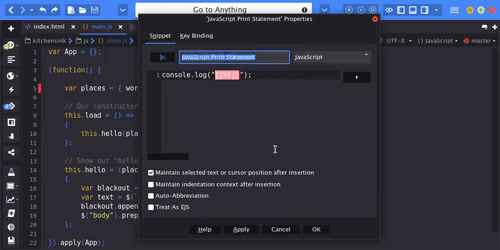 Print Debugging
So, running the full debugger is a bit much, but toggling all those print statements gets tiresome? Now you can quickly toggle print statements, as well as easily create them, simply by clicking your editor margin.
Devdocs.io Integration
Resolve issues faster and focus on coding. Just highlight any word or code snippet and trigger the relevant language docs from inside Komodo, making the process of looking up documentation much simpler. It even works when you're offline!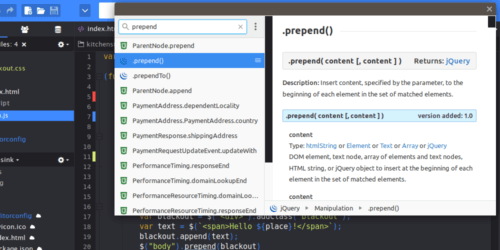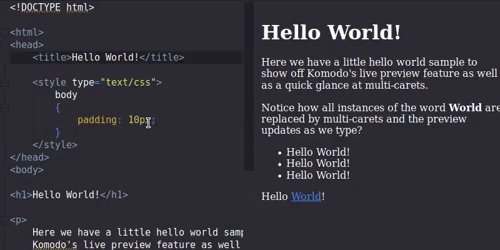 Live Previewing
No need to switch back and forth between your browser and editor. Now you can edit your HTML and markdown and test it all without leaving your IDE. Your preview will automatically reload whenever you edit the file – saving not required.
But that's not all. Komodo 11 includes Project/Folder Templates, Dependency Detector, Universal Package Manager, Clipboard Manager and added tools for Drupal, Laravel and WordPress. See What's New in Komodo 11.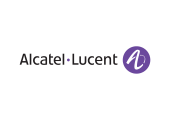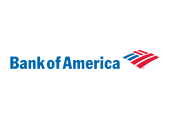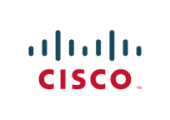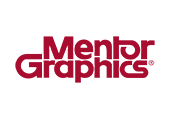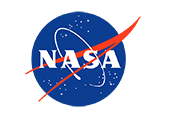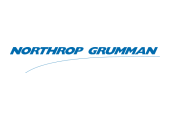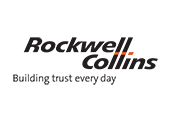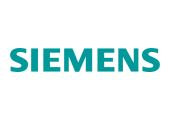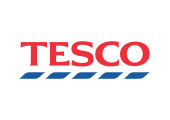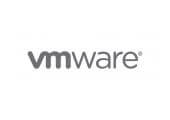 As a passionate PHP developer, and having used competitor products extensively, I appreciate Komodo IDE every day. The improvement it and its add-ons have made to my productivity literally paid for the license cost in the first month.
Marc Gray, Lamped.co.uk
I appreciate your realistic licensing [for Komodo]—I paid for my own copy and I use it at home on my Linux desktop, on my laptop, and here at my day job.
Brian Wilson, Alsea Geospatial, Inc.
Komodo is a great product. My favourite feature is the regex generator/tester. It's saved me heaps of time and aggravation when coming up with complicated regular expressions to get through weblogs and the like.
Ben Maddock, Web Administrator (UniSAnet), Flexible Learning Centre, University of South Australia
The increase in productivity I got from the interactive debugging environment in Komodo IDE probably saved me more than the purchase price within 48 hours. This is a quality product.
Graeme Robinson, Memex Inc.
Join the Komodo Community
Komodo wouldn't be possible without you, our users. Get the most out of Komodo and download the latest packages, userscripts and other add-ons, or post a question on our forum. Visit Our Community Site.