Over 60% using dynamic languages in mission-critical applications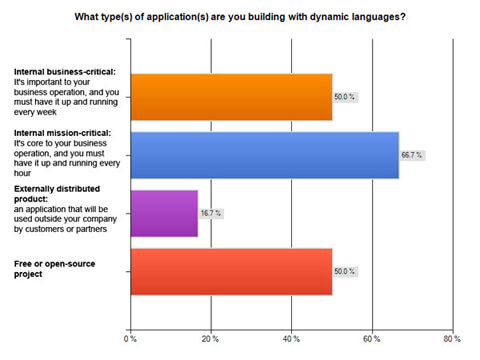 In our blog post a few weeks ago entitled "
What Managers don't know about their developers using open source components
", we discussed how developers may be using open source in their application development without their managers' knowledge or consent.
The results from our February monthly poll seem to point to the same thing. It showed that 60% of our survey respondents are using dynamic languages in mission-critical applications.
While use of open source in enterprise and government is catching on, we had mixed feelings to see this 60%. Since the language distributions that we provide for free are easily accessible, we were happy to see high utilization in enterprise applications. However, in the open source industry, we have seen things go wrong with unmanaged use of open source in businesses. This includes improper licensing for use in enterprise and distributed applications, and copyright infringement lawsuits. So we encourage our developer users to ensure they have considered these, or discussed these with their management.
With that in mind, watch for an upcoming blog post on the lessons our enterprise customers have learned regarding the need for indemnification (against potential lawsuits) when using open source. If you have any immediate questions on this topic if you're working on a mission-critical application, please do not hesitate to contact us.
Take part in our March Quick Poll for a chance to win an ActiveState t-shirt here!