Download Tcl: ActiveTcl
The trusted Tcl distribution for Windows, Linux and Mac, pre-bundled with top Tcl/Tk modules – free for development use.
Get ActiveTcl Community Edition
Free Download for Windows | Linux | Mac
ActiveTcl is now offered through the ActiveState Platform. Create a free account above and get these benefits:
Download ActiveTcl and get notified of updates
Share your Tcl runtime environment with your team
Coming Soon: Customize Tcl with only the packages you need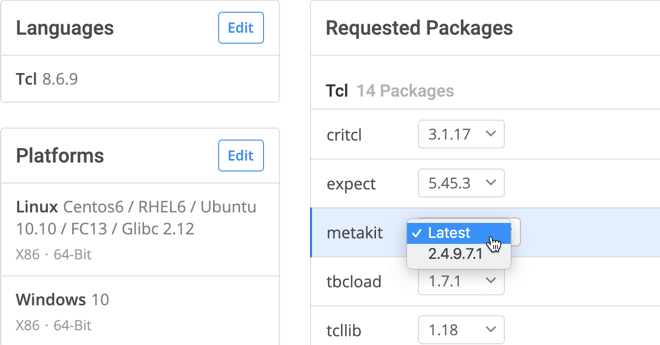 Licensing Options For Beyond Development Use
Commercial support, older versions of Tcl, or redistributing ActiveTcl in your software – We've got you covered on the ActiveState Platform. Compare pricing options in detail.
Build, certify and resolve your open source languages on the ActiveState Platform. Automate your build engineering cycle, dependency management and checking for threats and license compliance.