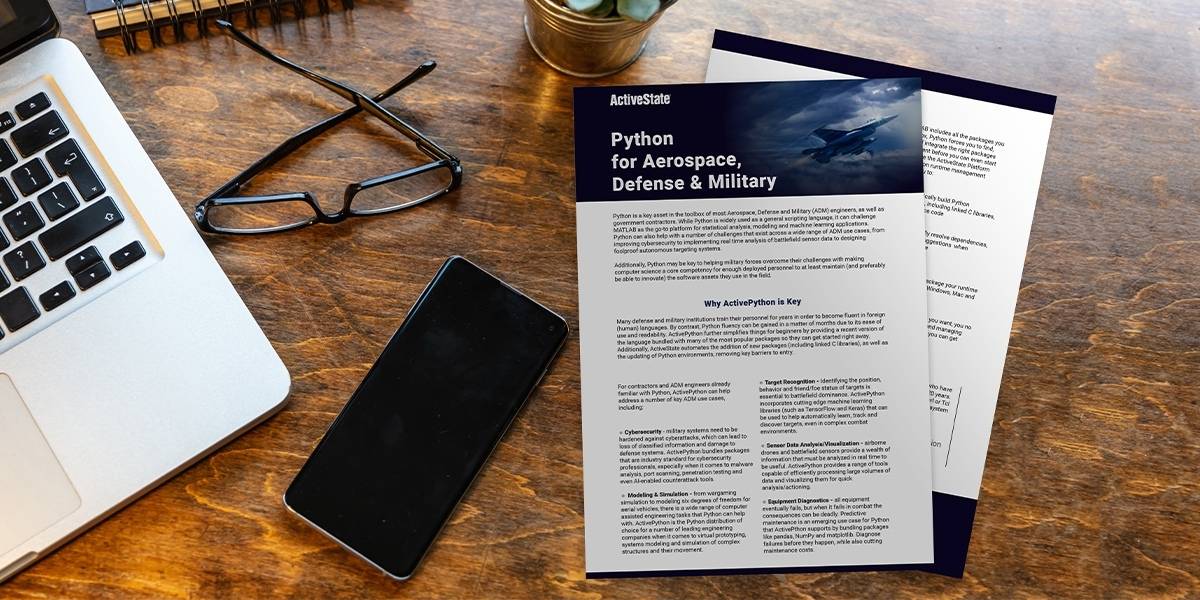 Data Sheet: Python for Aerospace and Defense Industry
Understand how Python is key to addressing use cases like cybersecurity, simulation, target recognition, etc. as well as how ActivePython can not only make working with Python faster and easier, but also help reduce exposure to vulnerabilities in the aerospace and defense sectors.
Download Data Sheet
What is the ActiveState Platform?
At ActiveState, we use our Platform to build not only our popular open source language distributions, but also custom environments for our enterprise clients (i.e. language builds containing just the packages their application requires). All environments created with the ActiveState Platform are built from source, assessed for CVEs, and can be updated in a timely manner.
Why choose ActivePyton and ActiveState Platform for aerospace and defense?
There are numerous advantages that the datasheet highlights. But most of all, and one that we see the defense sector finds critical is security – the ability to create a walled garden of vetted packages for their dev teams and the ActiveState assurance that they will find the technical support they need to build free of CVEs! Our commercial support for Python enables you to do extensive customization, and access premium support and regularly scheduled builds – licensed for use beyond development.
Developers can sign up for our Platform and use it to build a runtime environment for their Python projects right away. Or they can get a version of the Python core language and many of the popular third-party modules – free to download and use for development purposes.
For information on team tier or enterprise pricing, refer to our Platform Pricing or else contact Sales.