How to use the ActiveState Platform for modern open source package management
This video provides a quick overview of how the ActiveState Platform can be used by developers working with open source languages like Python, Perl, Tcl or Ruby.
To create your own runtime environment, featuring up-to-date, secure packages and their fully resolved dependencies you can start by creating a free ActiveState Platform account.
The ActiveState Platform is designed to help decrease the costs of managing your dependencies by automating many of the most time and resource-intensive tasks.  It works like a universal package management solution for developers. 100% compatible with the open source packages you use today!
Unified Tooling – a single tool that automatically builds all packages from source (including linked C libraries), and also simplifies the creation and management of virtual environments and the projects they contain.
Environment Reproducibility – shared consistent Python, Perl, Ruby and Tcl runtime environments that can be deployed on a given system with a single command. Eliminate "works on my machine" issues.
Vulnerability Remediation – identify vulnerable components, upgrade/downgrade them, and automatically rebuild a secure runtime environment, ready to be pulled into your CI/CD pipeline. Resolve vulnerabilities faster.
Advanced Dependency Management – automated dependency resolution, as well as simple solutions to dependency conflicts. Eliminate dependency hell
Integrates with your existing development workflow – It supplies secure, prebuilt Python, Ruby, Perl, and Tcl runtimes for your Dev and CI/CD environments, helping ensure application integrity.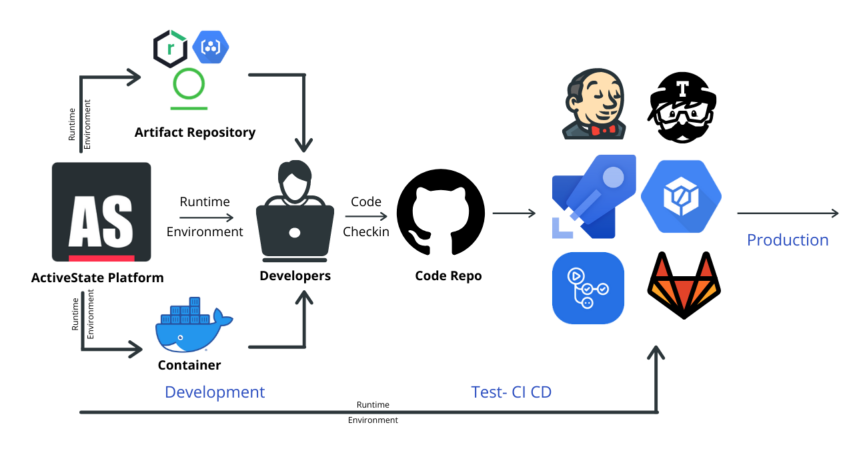 So, since all the heavy lifting has been automated for you, anyone can accomplish these tasks without the need for either language or OS expertise, meaning your most experienced developers can focus on coding instead of troubleshooting. Give it a try and see how easy it is to manage your dependencies.
Note: Creating secure, reproducible environments are functions available to all users of the ActiveState Platform, including free tier users. Just start by creating your account using your email or GitHub credentials. As you work with the ActiveState Platform to create new Python environments, you may need to upgrade to higher tiers to obtain access to features available only to paid tier users. These include role-based access control and project branching. Please get in touch with us to help you find the best tier for your needs.
Watch Next: How to Simplify Working with Reproducible Environments Using the ActiveState Platform
At ActiveState, we use the Platform to build not only our popular open source language distributions, but also custom runtimes for our enterprise clients (i.e. builds containing just the language and packages their project requires). Try it out yourself or get a personalized demo and understand how it can support your enterprise's open source needs.
To read the blog based on this video "The Simplified And Automated Path To Dependency Management', head here.
New to the ActiveState Platform? Here's how to get started, once you've created your free account.
Use our Platform to build a custom environment for your next project, including just the language and packages your project needs.
Choose a language (Python, Perl or Tcl right now)
Select your operating system (Linux or Windows, plus Mac for Python)
Add the packages your project requires
ActiveState regularly pulls packages from each language's standard open source repository (CPAN, PyPI, etc) to ensure that your open source language and components are up to date, can be compiled from source, and are then verified to work together in a distribution that is packaged for most major operating systems. Go ahead and try our beta today! We are hanging out at our Community Forum to provide support as you explore.