Python & Machine Learning for the Financial Industry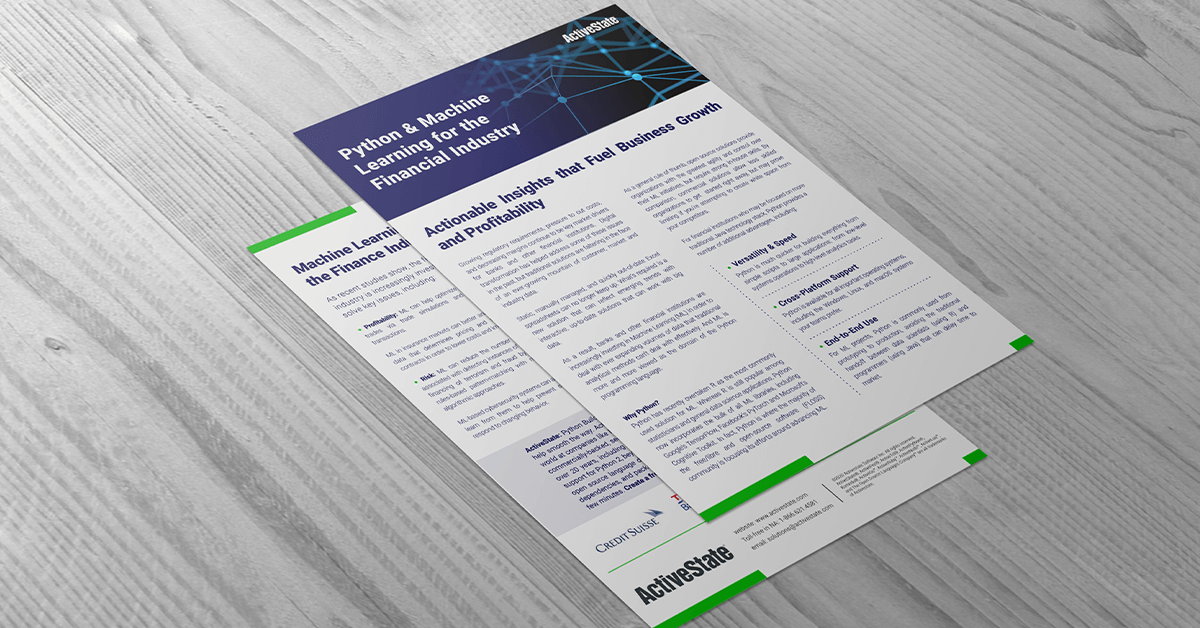 Python has recently overtaken R as the most commonly used solution for machine learning, with its versatility, cross-platform support, and end-to-end use. As recent studies have shown, the financial industry is increasingly investing in ML to solve key issues; check out our datasheet for more info.
Python-Machine-Learning-for-the-Financial-Industry

Python Use Case in Fintech
An American multinational financial services corporation headquartered in New York City wanted to accelerate their digital transformation in order to put themselves at the forefront of the digital revolution. By mining complex digital customer and prospect behavioral data, the customer hoped to transform it into actionable information. But such a major business transformation would require a corresponding technology transformation. To that end, the customer initiated a number of data science and machine learning projects to examine the structured data they've been collecting for years. The customer then correlated the structured data with unstructured data from web and social media.
A single, standard, data science-focused build of ActiveState's Python distribution, ActivePython, for AIX, provided all of the data engineering and data modeling capabilities required. Using ActiveState's Python, ActivePython, ActivePython, the customer was able to combine their transactional data with social media (such as Facebook and Foursquare) data in order to identify when a customer was preparing for a vacation. Those customers were then offered cross-sell services such as travel insurance, foreign exchange, etc.
As a result the corporation was able to significantly increase cross-selling & reclaim resources.
Looking for commercial support, older versions of Python, or redistributing ActivePython in your software? We've got you covered on the ActiveState Platform. Compare pricing options in detail or contact us for a custom quote
An enterprise can accelerate data science and software development with a secure, supported Python distribution and the robust support of an open-source company like ActiveState.
Related Resources:
ActiveState Platform: Get Python Applications to Market Faster
Top 10 Python Use Cases