Komodo 9 Released: Better, Faster, Stronger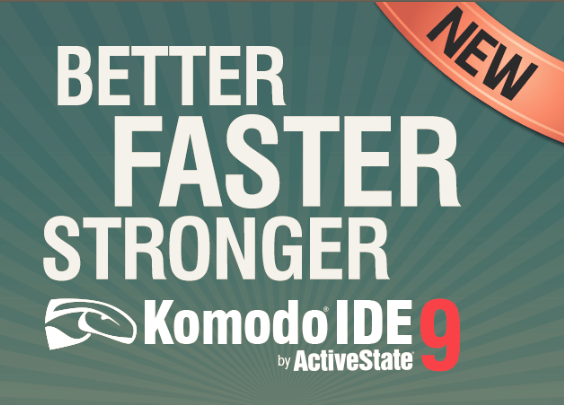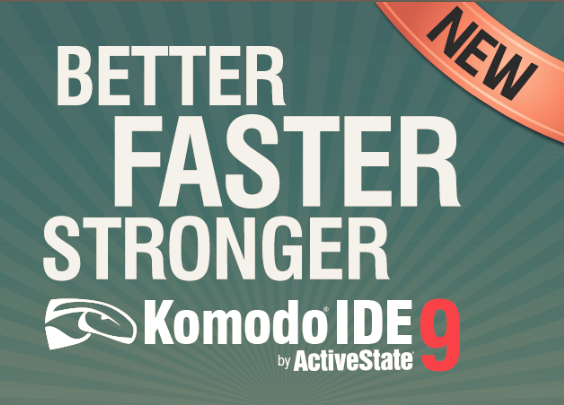 We're happy to announce that we've just released Komodo 9, so we're celebrating the evolution of Komodo: now better, faster, and stronger than ever!
On top of already being a multi-language, cross-platform, kick-a$$ IDE, [**new features in Komodo 9**][features] include:
* Go Language (golang) Support
* Track Changes
* Commando ("Go To Anything" Search)
* Markdown Viewer
* [Kopy.io](http://kopy.io/) Integration
* Updated UI
* Notifications UI
* Performance Improvements
* PHP 5.6 Support and Python 3.4 Support
* Improvements to Komodo Developer APIs
* And More!
We're feeling nostalgic, so we're taking the way-back machine with **great prices on Komodo and Pro Studio bundles** through April 30th:
* Komodo + first year Upgrades & Support11 $382 $332
* Komodo without Upgrades & Support1 $295 $245
* 5-pack for teams – your best deal $1615 $1365 (saves $295 over 5 individual license purchases)
To learn about license types (including Personal) and purchasing options, [**visit the Komodo pricing page**][pricing]. If you already have Komodo 8, [visit your account to upgrade][account] today – IDE users save $73 off regular upgrade prices!
Of course, if you're not ready to buy, you can give the [**21-day free trial**][download] a whirl, and experience the power of Komodo for yourself.
We hope you love Komodo 9 as much as we do, and would like to give a special shout out the community members who helped us during the beta and RC stages. You've helped make this the best Komodo yet!
[features]: http://komodoide.com/features/?utm_source=komodoblog&utm_medium=blog&utm_term=&utm_content=komodo-link&utm_campaign=komodo-9-launch
[pricing]: http://komodoide.com/pricing/?utm_source=komodoblog&utm_medium=blog&utm_term=&utm_content=komodo-link&utm_campaign=komodo-9-launch
[account]: https://account.activestate.com?utm_source=komodoblog&utm_medium=blog&utm_term=&utm_content=komodo-link&utm_campaign=komodo-9-launch
[download]: http://komodoide.com?utm_source=komodoblog&utm_medium=blog&utm_term=&utm_content=komodo-link&utm_campaign=komodo-9-launch