Komodo IDE "Best Python IDE"; Winner of InfoWorld Technology of the Year Award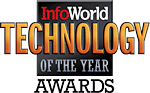 We are excited to announce that ActiveState is the proud recipient of an InfoWorld Technology of the Year Award!
Komodo IDE has been named Best Python IDE
, coming out on top against nine other Python IDEs tested. Komodo specifically got top points for ease of installation, documentation and ease of use–things that we pride ourselves on as well.
"Of all the products we tested in the past year, these are the ones that impressed us the most. Our Technology of the Year Award winners are not just the best products in their class, but the ones that are changing the way IT services are delivered and the way people work," InfoWorld Test Center Executive Editor Doug Dineley said. "ActiveState's Komodo IDE provides the most elegant solution (among the nine products we tested) with multi-language debugging, an intuitive interface, and clever management of objects and code."
"Python is a powerful open source dynamic language that continues to extend its reach, from small developer teams to the enterprise, and we're proud to be a part of that growth," said Todd Whiteman, Komodo Development Lead. "This is nice recognition for all the hard work we've put into Komodo."
This endorsement continues to support our belief that there is strong growth in Python, and there will continue to be in the future. Python use truly is on the rise. We're glad that Komodo IDE has been named the best Python IDE on the market, and can help further the growth and adoption of this language.
Read about Komodo IDE's features for Python development, see Komodo and Python in action by watching our short Python screencasts, or
try it for free on the ActiveState Platform
.
Visit:
/products/komodo-ide/python-editor
Updated May 2011: Save $50 per license on Komodo IDE when you place your order before May 31, 2011!