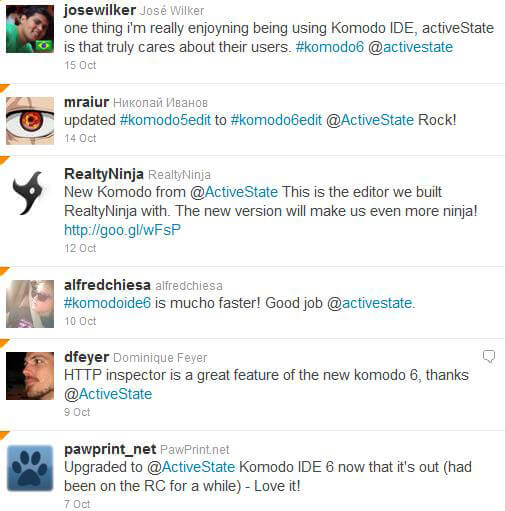 If you haven't tried or bought the newly released Komodo IDE 6 already, what are you waiting for?
eWeek just named it to this month's Products to Watch list.
Other eWeek readers share their sentiments:
"As a professional Python programmer, Komodo IDE is my tool of choice, I have yet to find another IDE as complete and useful as this one. My co-worker writes in Perl and he also uses Komodo IDE as his prefered IDE. This shows how versatile and complete this IDE truly is. Very nice debugger and Python shell built in." – Stephane Larochelle
"Komodo is the only IDE my company has been using for years. It is always up with the times (support for the latest languages like HTML5+CSS3!!) and has great debugging capabilities. The RX toolkit has saved my life numerous times and the ability for our developers to share tools, snippets, etc. is a definite bonus!" – Casimir Loeber
We've been receiving great feedback via Twitter and email almost every day since the release, too.
So what are you waiting for?
Try it for FREE by creating an account on the ActiveState Platform!