We recently launched a survey to owners of Komodo IDE 6, asking for their feedback on our newest IDE release. We were really pleased to see that overall our customers are really pleased with what we've provided. We thought we'd share some interesting stats with you in case you're considering trying out our Komodo IDE.
Komodo Working Double-Duty. Or Triple. Or…
56.4% of Komodo IDE owners have Komodo IDE installed and running on more than one computer.
That's great—in case you didn't know, a single Komodo IDE license covers you across all supported platforms—so go ahead and install your software on your home and work machines, your laptop… anywhere that the licensed user is the only person using the software. And code away.
Komodo for Team Work
Over 50% of those surveyed work in a team setting; of those respondents, almost 40% have teammates also using Komodo. Sweet.
Komodo runs on Windows, Mac, and Linux. Komodo can be customized to look and feel like other editors or dev environments (including emulating Vi, Emacs, Textmate and more). It has revision control, shared tools and all sorts of goodies to help the team.
If you're using Komodo IDE (or want to be) but your team isn't convinced, take the time to review our Komodo IDE Features for Perl, Python and PHP Teams. Even if you're using Python, but the guy next to you is coding in PHP… Komodo is the great choice for multiple dynamic languages.
Komodo IDE Language Support
Komodo supports a schwack of languages. But what are our users most using Komodo IDE for? Komodo IDE seems to be a very popular editor for CSS, HTML, Javascript, Python, PHP, Perl and XML.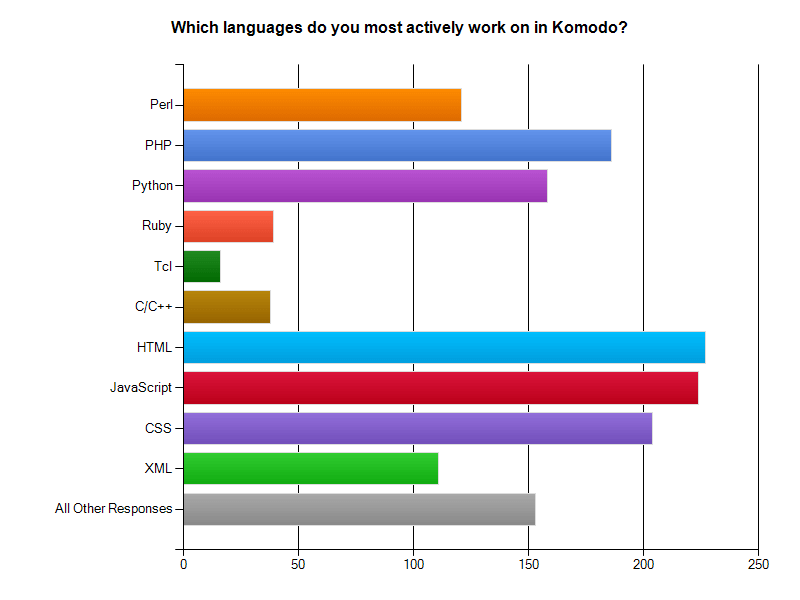 Komodo Feature Popularity
Komodo IDE 6 was released with lots of new features. But which ones are getting the most use?
The most widely used Komodo features by respondents were Find and Replace, Syntax Checking, Code Intelligence and Code Formatting.
Following closely were Komodo Projects, Debugging, Code Browser, Source Code Control, Rx Toolkit and Toolkit, as expressed in the graph below (we've shown only the top ten most popular responses).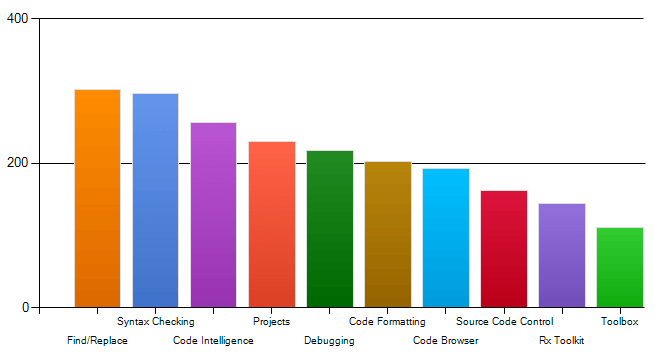 Thanks for the great feedback. We've noted any requests for changes and new features, and rest assured we'll be looking at all of your responses very carefully. In the meantime, I can't help but share a few of the kind words some of you sent. You can't blame a guy for wanting to highlight some compliments, can you? 😉
"I love this IDE! I love this IDE! Thank you! I love that you have code support for Django! I love the many features. Code Browser now from tabs, not from the menu. I still haven't used some of the new features of version 6 yet. Looking forward to using Publishing and HTTP Inspector that I just discovered as a result of this survey. I love this IDE! Keep up the great work."
"I especially like the flexible licensing and generous upgrade policy. Also, very glad to see that IDE 6 now supports Python 3.1."
"Been using Komodo Edit for years, took the plunge and got IDE 5 last year, should have done it sooner and upgraded to 6 as soon as I could. I have been VERY happy. I really like (and this is key) that it is supported on Linux (My primary OS), Mac and Windows and that one license lets me install it on all. Excellent work, keep it up thanks!"
"I have used Komodo since 0.9 and have bought every version. I love it."
"Love it. Have tried everything else but always come back to Komodo."
"Thanks guys! You've done a wonderful job!"
"Yes, I'm very happy with it; it knocks the drawers off the last 4-5 editors I've used (including NetBeans)."
and lastly, "I have been using Komodo IDE for some years now and it keeps improving."
Thanks to all of your feedback, we will continue to improve on Komodo! If you own Komodo IDE 6 and missed the survey, feel free to drop us a line.
And if you're not using it yet, try using the Komodo IDE for free on the ActiveState Platform or read more on language specific features: