Survey Results: You Rank Komodo 6's Top 6 Features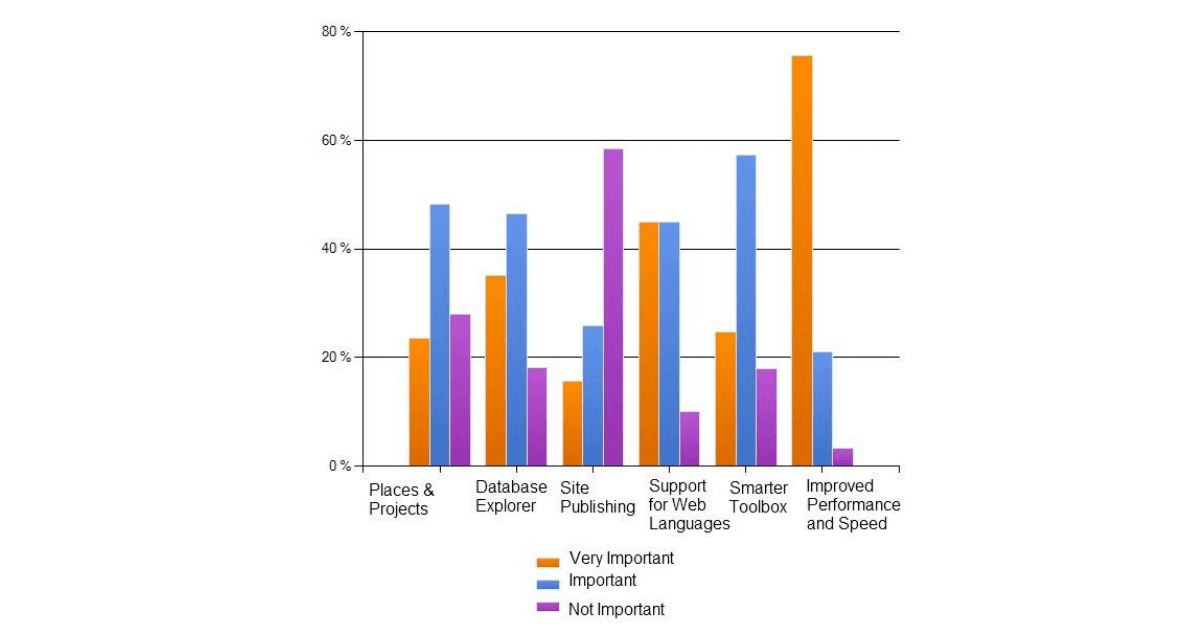 Thanks to everyone (135 respondents) who answered our October 2010 Quick Poll as presented in the ActiveState Newsletter. Special mention goes to Jeff Dickey, who was drawn to receive a free copy of Komodo IDE 6 and an ActiveState t-shirt.
This survey was very interesting to us, as we tried to guage what *we* thought were the top 6
features in Komodo
against what *you* thought were the most important features. Turns out we had the right features, but we'd ordered them incorrectly when it came to importance to you.
First, a little background on the survey-takers: Of our 135 respondents, a full 60% of respondents had tried Komodo—40% as
free 21-day trial downloads
, and 20% as owners. A further 30% plan to try it.
Of those who owned a previous version of Komodo, 80% plan(ned) to upgrade to Komodo 6! (This is probably a good time to remind you that upgrades are
on sale
starting at $95, and new Komodo purchases start at $245, valid until November 15th!)
Here's how you ranked Komodo's features, by order of importance:
Increased Speed and Performance: Speed isn't always a good thing–but while you're developing it truly is. Komodo IDE 6 is based on the same Mozilla sources as Firefox 3.5, which gives you a good speed boost. It also includes multi-language Rx (Komodo IDE only, regular expression debugger) and improved hyperlinks."We have been using Komodo since version 2 purchased 03-May-2004!! K6 is the best one yet!" and "Thanks for the fantastic IDE =)" – RealtyNinja via Twitter
Support for HMTL 5 and CSS 3: It's important to us that we support the most popular languages that our users are looking for, and we're glad to say that Komodo supports HTML 5 and CSS 3–and our users are loving it. 40% of our survey-takers were using one or both of HTML or CSS with Komodo!"Komodo is the only IDE my company has been using for years. It is always up with the times (support for the latest languages.. HTML5+CSS3!!) and has great debugging capabilities. The RX toolkit has saved my life numerous times and the ability for our developers to share tools, snippets, etc. is a definite bonus…" – Casimir Loeber
Smarter Toolbox: Komodo 6 is even more extensible and useful than past versions: Extensions can now provide tools and tools in Komodo projects are in a ".komodotools" directory: more source code control-friendly and shareable."As a professional python programmer, Komodo IDE is my tool of choice, I have yet to find another IDE as complete and usefull as this one. My co worker writes in PERL and he also uses Komodo IDE as his prefered IDE. This shows how versatile and complete this IDE truly is. Very nice debugger and Python shell builtin." –
Explore and Manage Databases: While the languages Komodo supports are great for interacting with databases, in the past if you wanted to view your database tables you needed to use a tool outside Komodo. You wanted us to add a tool to Komodo to make it easy to see what your data is doing, so we built the Database Explorer for Komodo 6."Nice option instead of always using PHPMyAdmin.." – hyperfuse via ActiveState blog
New Places and Projects: "Places is growing on me, especially now that I understand Quick Open better. And performance is always good. :)" – Matthew Walker via Twitter
Publish Your Site: Sometimes when editing locally (for speed, autocomplete, debugging) or editing multiple files before one push makes more sense. Komodo IDE 6's new publishing system allows you to quickly and easily keep remote and local directories in sync.

Do you have a favorite new feature in Komodo 6 that we forgot to mention or rate? Let us know by adding a comment below.